Oville World is an interactive online world where your children can safely play and learn.  Developed by CEO Eronne Foster, mother and grandmother, ovilleworld.com prepares toddlers and preschoolers for school in subjects like reading, math, music, art, colours, shapes, science, and more.
Give your children a head-start in developing important life skills, computer skills, academic skills, while enhancing their self-esteem and self-confidence.
D'arcy Lyness, PhD. explains:

Kids with low self-esteem feel unsure of themselves.  If they think others won't accept them, they may not join in.  They may let others treat them poorly.  They may have a hard time standing up for themselves.  They may give up easily, or not try at all.  Kids with low self-esteem find it hard to cope when they make a mistake, lose, or fail. As a result, they may not do as well as they could.
Janice Smith from Vancouver, B.C. says:

My 3-year-old daughter was able to explore Oville and play the games all on her own!" says "Her confidence is growing every day as she learns desirable computer skills and kindergarten readiness skills.
With the right platform, eLearning allows children to prepare for kindergarten and strengthen their school performance. In a study by Emeeyou on 60 preschool-age children, after playing educational games for 5 to 10 minutes each day for three weeks, they found that:
45% of the children improved picture-naming skills by an average of more than 8 months;
38% improved object-assembly skills by an average of more than 10 months; and
31% of children improved their knowledge of colours by at least two months.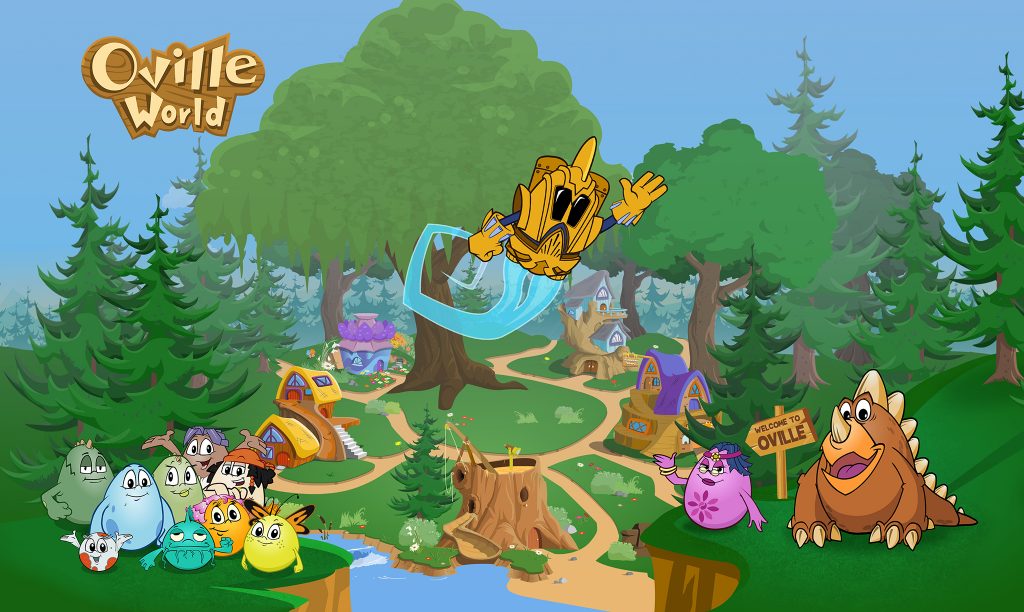 The Oville game is interactive, easy to play, and very intuitive for children.  There's an entertaining tutorial by characters explaining how to create their own avatar (a Cackpal), and custom home.  Your child guides the Cackpal down the pathways to visit various houses. There are clickables, collectibles and games along the way. To enter a house the Cackpal arrives at the front door. Each house includes books, music, games, colouring and other activities.
Oville World is also designed to teach children important life skills such as fire safety, empathy and kindness, nutrition, exercise, cleaning your room, pet caring & responsibility, as well as budgeting & saving. It also teaches the importance of problem solving through recycling, memory games, matching games, building, decision making, exploration and quests.
In today's world, online safety for children is very important. The content created for Oville is age appropriate and has been reviewed by our advisory board of parents and educators to meet stringent standards.
We do not allow advertisers access to your children and there are no advertisements or solicitation in Oville World. There are no pop-ups and no outbound links. Your child is not identified by the program in anyway. Oville is a virtual world, but it does not allow chat with other players to ensure that your child is playing in a safe environment.
Ms. Foster, a parent herself and having cared for lost children for over 20 years has always had young children around her for inspiration. "They are so smart and creative at a young age," says Foster. "I want to spark this creativity and curiosity with the world and also build life skills that will help encourage more kindness, compassion and inclusion."
Oville World offers free-to-play membership with premium content for paid members. The premium content includes 7 days free trial. Information is available on their website ovilleworld.com or can be downloaded on the app store at this link  https://apps.apple.com/ca/app/oville-world/id1408196792.
It will also be released on Google Play at a later date.
Eronne Foster, CEO
support@ovilleworld.com
Ovilleworld.com
Coquitlam, BC
References
https://edtechreview.in/e-learning/529-mobile-apps-influence-childhood-education
https://elearningindustry.com/subjects/elearning-articles/elearning-for-kids
https://elearningindustry.com/elearning-for-kids-5-ways-elearning-affecting-children-worldwide
https://kidshealth.org/en/parents/self-esteem.html